Frantic 11 Out Now
Frantic & Nukleuz Records announce the brand new album for 2008 celebrating 11 Frantic years of hard dance music and rocking parties! 2 CDs mixed by 6 of Frantic's elite DJs mixing 36 killer upfront tracks from all the biggest and best producers in the scene including Vinylgroover, Scott Attrill, Technikal, Steve Hill, Yoji, Lab 4, RX, Matt Lee, Andy Whitby, Audio Hedz, Tidy Boys, BK, Riggsy, Mini Minx, Defective Audio, Adam M, Dave Owens, Cortina, Matt Capitani, Tim Stokes, Little Jon & Tim Priestly and more. This will be a collectors item, not just another must have purchase!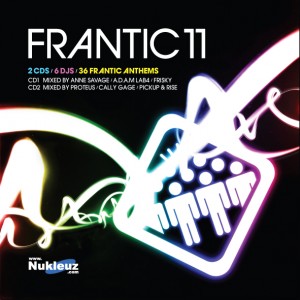 Since its beginnings 11 years ago as a birthday party for top man Will Paterson, Frantic has gone on to spawn several different brands of Hard Dance nights and become widely recognised as the scene's top event having hosted over 800 nights at the biggest and best venues in the UK and beyond. Partnered from their very conception Nukleuz and Frantic have forged a power house of hard dance and helped built the careers of some of today's biggest headliners including Mauro Picotto, BK, Andy Farley, Lisa Pin-Up, Fergie, Andy Whitby, Cally & Juice, Lab4, Organ Donors and many more. In celebration of these 11 years, Frantic have also planned a 15+ date countrywide album launch tour including their own 11th Birthday Party at Koko in Camden the weekend of release!
Each disc features 3 mini mixes from some of the brightest talents in the scene. With only 26 minutes to showcase what they can do, the pressure is on for each DJ to perform which they do with gusto offering a truly unique and exciting compilation experience! Like nothing else and always reinventing, Nukleuz is proud of its continued involvement in the outer reaches of rave mentality with contemporary DJs and producers at the top of their game.
Between them the DJs have created an album that feels like a combination of peak time live Frantic sets with a real rave mentality to them where the energy and excitement never stops taking in all their different styles and skills covering all areas of hard dance including hard house, hard trance, bounce, NRG, hardstyle and industrial.
Relive the best nights out of your life with this CD, with anthems and future classics on both discs.
MEET THE DJS
Anne Savage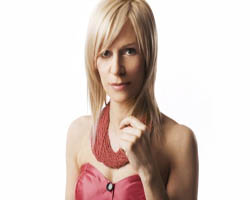 One of the scene's biggest stars, Anne has made huge waves in the hard dance scene and has been rocking festivals and clubs around the world this year with her diverse tune selection.
"It's no wonder Frantic is still going strong after a decade, with sell out shows in blinding venues, loyal to the core partygoers and a track record of supporting of homegrown talent. Frantic is a phenomenon, something special that everyone involved in should be proud of, so I'm especially honored to be mixing some of my dancefloor smashers for this album and I hope you enjoy listening to it as much as I did hand picking the tunes.."

Frisky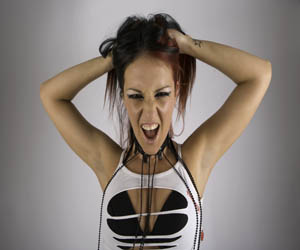 Welsh hardstyle and EHT queen Frisky has played major festivals and clubs across the country and abroad over the last couple of years, proving that she can cut it with the very best.
"Being a fan of Frantic and attending their events for the past 5 years I was obviously ecstatic when I was asked to be part of their 11th Birthday celebrations. For me, Frantic is all about putting on amazing parties at some of the most mind blowing venues and showcasing some of the best DJ talent out there."

Adam Lab 4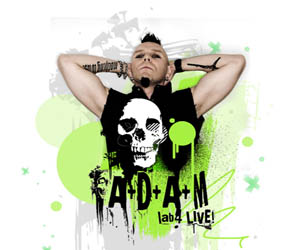 Adam is headlining the massive Hard House Academy this year, proving that his solo live sets are a force to be reckoned with. His unique harder brand of hard dance is showcased on the Frantic album.
"Frantic was always a real favourite for Lab4 and I am really excited to not only be playing for Frantic again this year but to have been invited to be involved in mixing this album. For me I have had some of the best gigs of my career at Frantic events… The DJ's, the decor and production, the choice of venues and more than anything the Frantic crowd…"

Proteus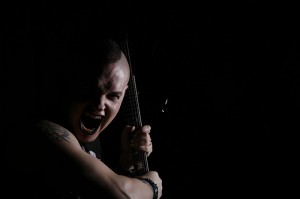 Finnish superstar Proteus is set to storm the main room at Hard House Academy in October 2008 with his ear splitting live set – get a taste of his full on industrial sound with this CD.
"Frantic is and has always been one of the most strongest forces in global Hard Dance scene. Frantic is a name that people every where, like here in Finland, knows very well and respects! For me it's a great honor to be part of this great compilation!"

Cally Gage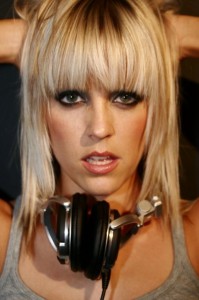 Cally's energy and enthusiasm behind the decks make her a guaranteed crowd pleaser and these talents shine through on this album. She is Frantic's Princess of Hard House.
"Frantic is always one of those parties that you look forward to playing at every single time – you get excited waiting to see what they're going to do next.  They always pull out all the stops and put that extra special effort into everything they do – this is what sets them miles ahead of the rest.  I have been lucky enough to have been a part of Frantic for a few years now and I hope to be a part of it for the rest of my career.  Frantic rocks, there's no doubt about that!"
Pickup & Rise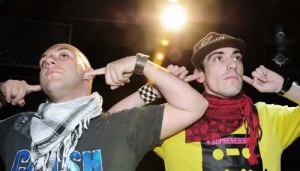 This cheeky duo has wowed crowds across the country with their unique style of filthy hard house mixed with cheeky bootlegs. Their technical skills are clearly shown throughout this mix.
"Frantic parties are more than just a club night. The time and effort that go into the production of each and every party makes sure they deliver the goods every time."
Related Posts