Nukleuz: A Decade of Dance Mayhem – Year 2001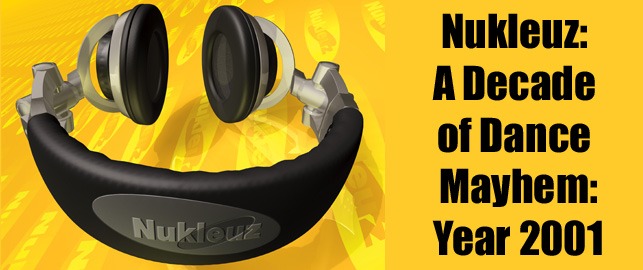 Nukleuz: A Decade of Dance Mayhem – Year 2001
We had gone into 2000 with an attitude and came out of it shell shocked at what we had achieved. To be honest it was all going so fast it was impossible to fully appreciate it while it was happening.We had added to our staff and were running at full tilt. It was just work, work, work. Find and make new tunes, master, manufacture and distribute them. Get artwork made. Mix albums in studio 3 live on the vinyl and CD decks (something rarely done nowdays) master them, move them.
There really was no time and Nukleuz had up to 14 people working on all aspects of this massive machine. The office was heaving and there was no room to breathe as everyone was squeezed together in the limited space we had available. 3 studios were operating with BK in studio 1, Nick Sentience in studio 2 and Tom Neville in studio 3 working on the mix albums and mastering almost constantly (and in his spare time he started making house music).
Releases:
2001 saw the first independently achieved hit single on Nukleuz and indeed on Nukleuz's distributer, Amato Disco. Mario Piu had had his hit in 1999 with "Communication (Somebody Answer the Phone)" but in 2001 Nukleuz found success on their own with "The Vision". This record is also famous for being the only ever independently released track by Nukleuz or Nukleuz's mother label, Media Records, to be play listed by Radio 1 in 18 years of trying.
Check out the CDs we have for sale
Events:
This was an excitng year for events. We had teamed up with Dance Valley in Holland to help in the supply of DJs to their events and they helped us do Nukleuz in Ibiza (which also spurned a mix album).
CDs:
Hard House Three – Lisa Pin-Up & Andy Farley
HardHouse Anthems 2001 – BK & Ed Real
International Big Room Tunes – Mixed by Nick Sentience & Tom Neville
The Main Stage – Mixed by Clive King & Ed Real
Big Room DJs – Mixed by Mario Piu & Nick Sentience
Big Room DJs 2 – Mixed by Mario Piu & Nick Sentience
Hard Dance Anthems – Mixed by Public Domain
Nukleuz In Ibiza 2001 – Mixed by BK & The Disco Brothers
Hard Beat: The Album – Mixed by BK
Singles:
Cortina ft Madam Friction – Erection (Take It To The Top)
Nick Sentience & Phil Reynolds – (Instru)Mental
Joy Kitikonti – Joyenergizer
Dean Peters & The Edison Factor – The Beginning
Taiko – Silence
Mauro Picotto – Like This Like That
Lisa Pin-Up, Elvra & Modell – Another Jam
BK & Andy Farley – Khemikal Imbalance
BK & Nick Sentience – Flash
Organ Donors – Locked Tight
Andy Farley – Bring It Back
Praga Khan – Injected With A Poison
Check out the 12″ vinyl we have for sale
EVENT FLIERS:
Check out more classic Nukleuz & Frantic's event fliers on Frantic's Facebook Page
Related Posts