Lisa Pin-Up – Baddest Mutha 2010 (Dark 13 & Original Mixes)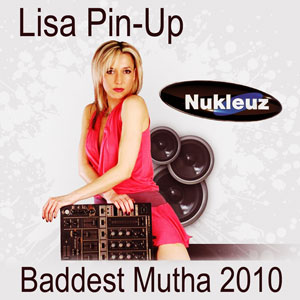 Dark13 (aka James Darke) may have his hands full taking over the reigns as Top Dog for the re-launch of legendary hard dance party Sundissential and smashing out anthems on his own Now Hard Dance label but that hasn't stopped him finding the time to hit the studio and craft a main room a smashing bounce remix of Lisa Pin-Up's huge anthem Baddest Mutha. His fast paced style and mixing skills have set him out from the crowd as an energetic, exciting and bouncy DJ who loves nothing more than to make people dance. Combine this with a full digital release of all the Original Mixes and remixes from BK & Nick Sentience and Ingo for the first time and you've got a package that is sure to do the damage when you need to really crank up the heat! Watch out for Sundissential 2010 Back 2 Basics later this year!
Lisa Pin-Up "Baddest Mutha" (inc Dark 13 Remix) – Out Now exclusive to Trackitdown
Lisa Pin-Up a hard dance icon, spinning at the largest venues for the past 14 years and still one of the scenes biggest pioneers. On the decks she's a legend, known for her unique style and an ability to turn any dancefloor into a seething frenzy. Off the decks she is a prolific producer, releasing her very own artist album "Biggest Baddest Mutha" for Nukleuz and is one of the original members of the famous Tidy Girls. Throughout her career Lisa Pin-Up has mixed gold discs selling compilations and produced countless timeless hard dance anthems for Nukleuz Records and other leading labels.
Now, on top of her super busy DJ and production schedule Lisa has launched her own brand tour nights across the UK titled "God Save The Queen" & "Neon Glam" which have been designed to capture all that is Lisa Pin-Up from the striking imagery, club visuals and decor right down to the fun and high energy all specially programmed into Lisa's sets. She is easily one of the hard dance elite and the Queen of Bounce! Alongside "Future Acid House" and "Blow Your Mind (I Am The Woman)" "Baddest Mutha" is one of Lisa's crowning glories and a bonafide classic, fusing ragga vocals with big bad basslines to maximum effect and featuring the talents of Nicky Blackmarket's MC Fox 'Baddest Mutha' is a ruff ride to the hardside!
Click here for more info on Lisa Pin-Up.
Lisa Pin-Up Website
Dark 13 Facebook
Lisa Pin-Up "Baddest Mutha" 2010 Out Now Exclusive to Trackitdown
MIXES:
Dark 13 Remix
BK & Nick Sentience Remix
Ingo Remix
Pin-Up Mix
Original Mix
Related Posts