Frantic Residents 07: Mixed by Proteus & Cally Gage – Out Now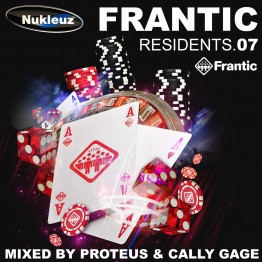 Frantic Residents 07 is out now – Mixed by Proteus and CallyGage  .
Four years on from the release of the last episode, FR07 breaks from the single DJ mix mould and gives each DJ their own mix to play with for 2 DJ Mixes of the biggest hard dance anthems past, present and future, timed to coincide with Frantic's 13th Birthday. Featuring tracks from legendary classic artists like BK, Vinylgroover, Fergie, Organ Donors, Lab 4 and Kevin Energy as well as leaders of the nu skool like Technikal, Andy Whitby & more!
The explosion of Hard House in the late 1990's created one of the most exciting and successful dance music explosions both in terms of the music released and the parties and events it spawned. Frantic and Nukleuz were fused at the hip from the birth of the scene and together forged the now legendary Frantic Residents album series which showcased the hottest DJ and production talent in the world doing what they do best. Most of these CDs, made as limited edition runs now pop up on eBay for up to £50 a time!
The Frantic Residents CDs were designed to be an antidote to the big budget TV advertised compilations that were dominating the market at the time and represented the sound of Frantic & Nukleuz, its core DJs and the full spectrum of harder dance. These international sounds have seen a renaissance over the past 6 months growing from their core home territories of UK, The Netherlands, Germany, Finland and Australia to encompass the globe especially the USA where Hardstyle is fast becoming the most popular and fastest growing rave scene of 2010.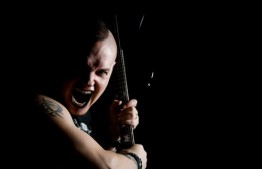 Finnish sensation Proteus opens up proceedings with his own brand of industrial, metal influenced hardstyle fusing classic anthems with hot upfront exclusives and leads the growing ranks of hardstyle DJs currently headlining at Frantic's events due to the massive growth in the scene internationally especially in the UK and USA.
Proteus shot to prominence in 2004 when he was voted "Best Hard Dance DJ" two years in a row at the Hard Dance Awards and made the coveted DJ Mag Top 100 DJs list these years as well! He can boast sets alongside Prodigy and Juno Reactor as well as being a Frantic Resident.
Proteus is also famous for his Proteus Live Show which is breaking boundaries between dance music and industrial metal concert. Proteus plays electric guitar, keyboards and percussions with his full band and they have done several big shows in Finland for 3000 people and for the full Brixton Academy in London!
"Frantic is and has always been one of the most strongest forces in global Hard Dance scene. Frantic is a name that people every where, like here in Finland, knows very well and respects!"
http://nukleuz.com/artistinfo/proteus-biography/
CALLY GAGE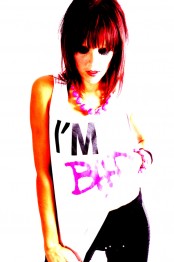 Cally Gage drops a bomb on CD2 and shows why she is the hottest female talent in the scene today, showcasing the other side to Frantic's events, a combination of high energy hard house, NRG and hard trance.
Cally started off her career in fine style winning the Tidy Summer Camp DJ Competition in July 2004 and since then has achieved more than most DJs achieve in a decade, successfully carving out a well deserved reputation as one who consistently delivers floor-filling, jaw dropping, crowd delighting sets; these are Cally's trademarks.
Cally's relentless passion is further rewarded as she becomes this year's Storm resident alongside her position as a key Frantic Resident and coincides with her move to CODA Agency, (the same agency team responsible for Calvin Harris, Annie Mac, and Fergie). This huge milestone underlines Cally Gage as a true global artiste at the top of her game.
"Frantic is always one of those parties that you look forward to playing at every single time – you get excited waiting to see what they're going to do next. They always pull out all the stops and put that extra special effort into everything they do – this is what sets them miles ahead of the rest. Frantic rocks, there's no doubt about that!"

http://nukleuz.com/artistinfo/cally-gage-biography/
On Bank Holiday Sunday 29th August 2010, Koko in Camden plays host to Frantic's 13th Birthday celebrations – 13 Years of Frantic / 25 DJs / 1500 Ravers & U!
The number 13 is unlucky for some but here at Frantic HQ we feel it's lucky for us as we have been rocking the Hard Dance world for 13 years! To celebrate this ground-breaking milestone for London's biggest and longest running Hard Dance brand we want you to come party with us in a Casino and Las Vegas theme. There are endless possibilities for fancy dress including Croupiers, Playboy Bunnies, Show Girls, Dice, Packs of Cards, Kings, Queens, Jacks, Jokers, Elvis and James Bond. So get involved and get creative!
Eflier:http://hiddenclub.co.uk/eflyers/frantic/frantic2010/f13/ef2
Related Posts