Christmas and NYE event round-up
With so many events to choose from over the holiday season, we've selected some of our favourites so you don't have to go trawling through the listings. There's something for everyone, and if you are going to one of these let us know, we might just see you there!
Storm VS Passion, Coalville, NYE (31.12.09)
Four arenas filled with some of the best DJs available for anyone who isn't in London this NYE.  They've got John 00 Flemming and K90 alongside BK vs Cally Gage, so there's sure to be something for anyone on the night. K90 has recently been flying up the download charts with his remix of Locked Trance as part of the Organ Donors Under The Knife project, while BK recently kicked things off on the Hard Dance Mash Up.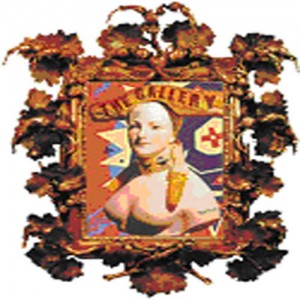 The Gallery, Ministry of Sound, London (31.12.09)
With Sander Van Doorn, Judge Jules, Tall Paul and Simon Patterson The Gallery @ Ministry on NYE looks like an amazing night, plus they are running a competition to choose the MIDNIGHT TRACK! That's right, take your pick from 20 tracks as to what will be pumping out of the soundsystem at 00:00 on the 31st at Ministry.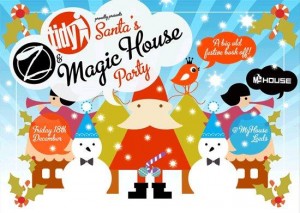 Insomniacz VS Tidy Xmas Party, London (18.12.09)
Insomniacz and Tidy are running their super-exclusive Christmas party that's sure to be rammed and with Insomniacz on board this will be the Christmas party everyone will be at. There's only 800 tickets available for this one, so exclusivity is guaranteed.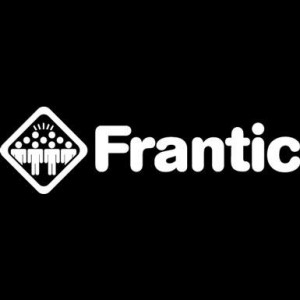 Future Frantic NYE, Hidden, London (31.12.09)
With a line-up featuring an Andy Whitby midnight set, MDA&Spherical, Cally Gage, Frisky and Andy Farley it's sure to be a banging New Year at Hidden. Plus, there is a competition running for four lucky DJs to WIN a set at Future Frantic!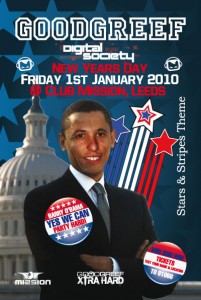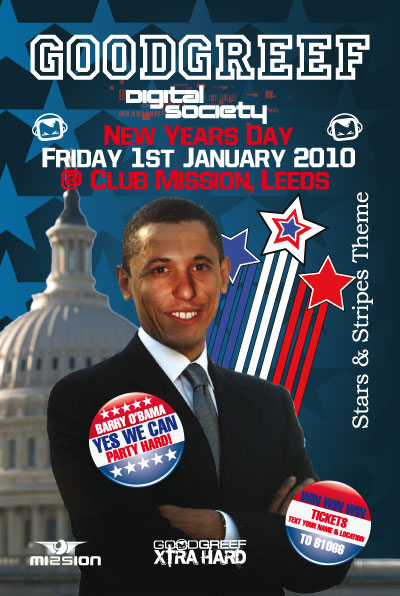 Goodgreef NYD party @ Mission (01.01.10)
If New Years Eve isn't enough for you, then Goodgreef have lined up a New Years Day party to beat all others by joining up with Digital Society @ Mission. You will also have the chance to paint the town Red, White and Blue with a Stars and Stripes theme.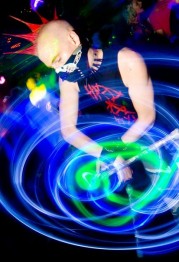 Glow Ball Xmas Party, Mass, London (18.12.09)
Glow Ball returns to Mass with Andy Farley, Phil Reynolds and Cally Gage with their bonkers UV decor, a huge play zone, including ball pits, to kick off the Christmas party season with a bang.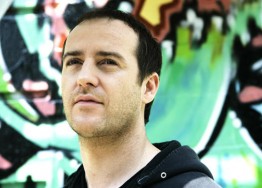 Sasha @ Global Underground, Ministry, London (01.01.10)
Global Underground takes over the Bar  to kick off the New Year at Ministry of Sound with Sasha headlining, while Cosmonauts, Sultan and Jim Rivers provide support. Sure to be an amazing night, Sasha is world-renowned for his unique and boundary-pushing style.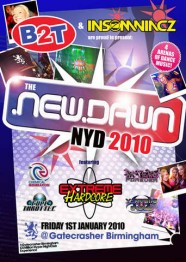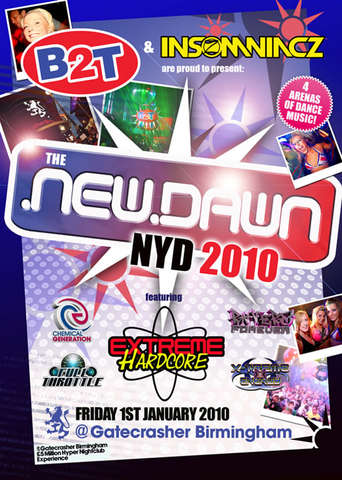 B2T/Insomniacz/Extreme Hardcore NYD, Gatecrasher, Birmingham (01.01.10)
66 DJ's, 15 MC's, 4 Arenas and 12 hours of music are a combination for a truly mental night, if you can handle it after New Years Eve! Includes Nukleuz favourites Tidy Boys, who recently took part in the Hard Dance Mash Up, adding their own unique flavour to the closing mix.







Related Posts