Nukleuz: A Decade of Dance Mayhem – Year 2008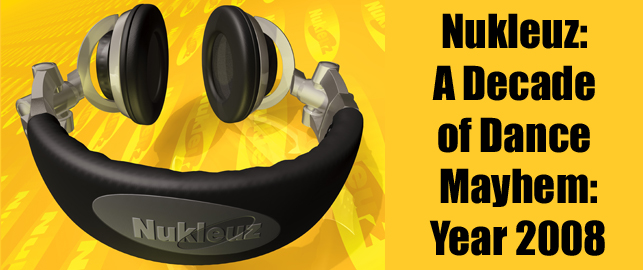 Nukleuz: A Decade of Dance Mayhem – Year 2008
2008: The final death throes of 12″ and CD. We had moved our distribution to Pinnacle, the country's largest independent distributor but by the end of the year that had too gone bankrupt taking all the the labels that moved to it from Amato with it. This signaled the final death knells for much 12″ and CD distribution of dance music in the UK. Also high street shops that had been supportive of dance in the past were also falling. All this failure in the physical distribution field forced more and more labels to concentrate on their digital distribution and in 2008 digital was beginning to really thrive for many labels , Nukleuz included.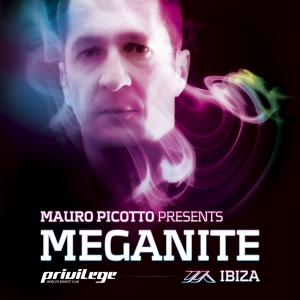 This was the year we continued with Mauro releasing the Meganite mix Cd and the "Gonna Get Ya" mashup single. We continued with both hardcore and trance with our digital output growing by the week. The new digital age allowed us to do all kinds of releases all available at the moment in House, Trance, Minimal etc that we could not have dreamed of doing before that time. We renewed our relationship with Frantic on a release front making the first digital only Frantic mix album. This was very much a year of consolidating our digital only capabilities and trying to bring all our artists into this new world that was still a revolution that was difficult to get to grips with.




Hardcore Nation: Next Generation – Mixed by Joey Riot & DJ Kurt, Al Storm, Al Twisted & JFX, Fracus, Darwin & JAKAZiD [2008]
Ibiza Trance Anthems 2008 – Mixed by Nukleuz & Maelstrom DJs [2008]
Trance Adrenaline – Mixed by Pierre Pienaar [2008]
Mauro Picotto presents Meganite Ibiza [2008]
Frantic 11 – Mixed by Anne Savage, Proteus, Frisky, Cally Gage, A+D+A+M Lab4 and Pickup & Rise [2008]
Bounce NRG [2008]
Trance Sessions Winter Solstice [2008]
Audioscape – Trance:Form [2008]
Check out the CDs we have in stock
Picotto vs Papini – Gonna Get Ya
JamX – Liebe
S.H.O.K.K. – Renaissance
Will Atkinson – Perpetual Sunrise
P.H.A.T.T. ft Kate Smith – Worlds Apart (Remixes)
Melodia – It All Comes Back
Pierre Pienaar – Ibiza Sunset
JAKAZiD – Find Me
Rachel Loy – Big Sky
P.H.A.T.T. – Shockwave
Hyper Deejays ft Jenna – Don't Stop Movin'
DJ Choose & Michael Splint – DJs Take Control
Hard Beat EP 29 (Andy Whitby & Audio Hedz – Rokk Ya Body / Fergie 7 BK – Hoovers & Horns – Andy Whitby & Audio Hedz Remix)
P.H.A.T.T. – Damage Control
Melodia – Motion Theory
Hardcore EP 16
Pierre Pienaar – Titan
P.H.A.T.T – Mass Destruction
Pierre Pienaar – First Flight
Check out the 12″ Vinyl we have in stock
Events

To celebrate the release of the Frantic 11 album, Andy Whitby and Cally Gage hit the road to tour the UK, bringing the Frantic 11 message to the people!
To celebrate the release of Trance Adrenaline, Nukleuz teamed up with Harderfaster to present the 2008 2 city tour of South Africa, hitting Johannesburg and Durban, headlined by Nukleuz's very own head of Trance Pierre Pienaar.
Check out more classic Nukleuz & Frantic event fliers on Frantic's Facebook Page
Related Posts