Nukleuz Bounce Classics 2011 – Coming Soon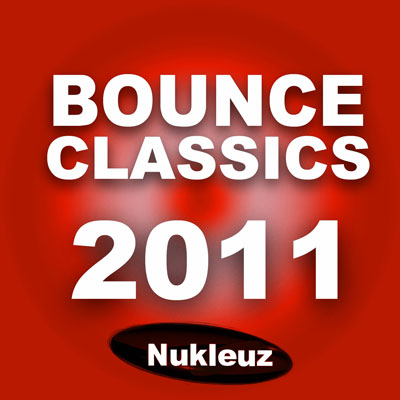 Thrown out all your vinyl? Scratched them to pieces? Then why not collect 20 of the biggest tracks from the Nukleuz back catalogue in glorious DJ friendly digital form with a free DJ mixes as a bonus? Nukleuz's parent company celebrates 20 years of hits, anthems and championing the hottest undiscovered talent in 2011. To celebrate the current staff have delved into the vaults of history and carefully selected our favourite tunes, classics, underground anthems and underrated gems from across the years. Mixed and mastered by Nukleuz Head of A&R Dave Louca and our studio production hero Josh McInnes aka JAKAZiD.
NUKLEUZ BOUNCE CLASSICS 2011
"Since the very early days of the bounce scene Nukleuz has been involved with their own first lady of bounce Lisa Pin-Up leading the way with tunes like "Baddest Mutha" and "Blow Your Mind (I Am The Woman)" becoming huge dance floor anthems. More recently Andy Whitby has been leaving his own lasting impression on the scene with high energy DJ sets and anthems like "Everybody's Free" (with Matt Lee).
"Nukleuz Bounce Classics 2011" is a celebration of this sound showcasing some of the leading production and DJing outfits on the scene including residents from influential venues like Wigan Pier. Leading acts including Bad Behaviour, Total Control, Outsource DJs, Bass Slammers, The Naughty Boyz and Hyper Deejays as well as new emerging talents like One & 2, Axel Gear, MS System, Digital Gravity and Essex Boyz.
In a scene based around big riffs and catchy vocal hooks it was only a matter of time before some of the Nukleuz back catalogue was raided to create bootlegs and white label remixes. Obvious targets for remixes were Cortina "Music Is Moving", Visa "Fly Away" and Fonzerelli "Moonlight Party". Nukleuz quickly snapped up the best of these along with original productions along with the biggest cover versions that guaranteed hands in the air. The Outsource remix of "Moonlight Party" began life as a one-off bootleg that the guys made for their own Wigan Pier headline gigs following strong radio play on the record. When word reached them that we were looking to compile a bounce album Benino sent it to me to hear. We loved it so sent him the remix parts to tidy it up and signed it within a week.
During the making of the Hardcore Adrenaline album series we created and signed a lot of big cover versions of some of the best known and loved dance classics especially "Heaven", "Castles In The Sky", "Dreamer" and "Better Off Alone". Due to the recent natural affinity between Hardcore & Bounce we were approached by artists to wanted to remix these into records that would rock their own dancefloors and be a beacon to their production skills on our albums like Bounce Adrenaline. The energy, passion and fun in this scene is inspiring. We hope you feel the same!" Dave Louca – Head of A&R @ Nukleuz.
NUKLEUZ BOUNCE CLASSICS 2011 TRACKLIST
MIX 1
1) Nukleuz Kollective 'Run To You – NRG Mix'
2) Love Assassins 'Ain't No Love (Ain't No Use) – One & 2 Remix'
3) DJ Foe 'Boogie 2 Nite – Outsource Club Remix'
4) Connected ft Max'C 'A Feeling – Outsource Remix'
5) Fonzerelli 'Moonlight Party – Outsource Club Remix '
6) Visa 'With Every Heartbeat – Total Control Remix '
7) Himbo & Robbie S 'Tainted Love – One & 2 Remix'
8) Hyper DeeJays feat Jenna C 'Don't Stop Movin – Bad Behaviour Remix'
9) Nukleuz Kollective 'Dreamer – NRG Mix'
10) King Ace 'Castles In The Sky – MS Systems Remix'
11) King Ace 'Better Off Alone – Digital Gravity Remix'
12) Visa 'Fly Away – Axel Gear Remix'
13) Love Assassins 'Teardrops – Bass Slammers Remix'
14) Cortina 'Music Is Moving – Digital Gravity Vs Essex Boyz Remix'
15) Nukleuz Kollective 'Heaven – Axel Gear Remix'
16) Lisa Pin-Up 'Blow Your Mind (I Am the Woman) – Stevie B Remix'
17) Chocolate Party 'We Don't Have To Take Our Clothes Off – Bass Slammers Remix'
18) Love Assassins 'Drinking In La – The Naughty Boyz Remix'
19) JAKAZiD feat Barry Scott 'Cillit Bang – NRG Mix'
20) Andy Whitby & Matt Lee 'Everybody's Free – 2008 Bounce Mix'
Related Posts