P.H.A.T.T – H3X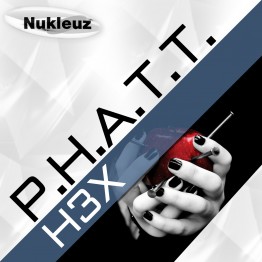 As the Head of Nukleuz's respected Green label the spiritual home to some of the biggest trance artists including Mauro Picotto, Mario Piu, CRW and Joy Kitikonti Pierre has signed and created some killer floor rocking tunes and H3X is no different!
Pierre (aka P.H.A.T.T. and Melodia) shows us his darker side with a moody, tech trancer very much in the style of Sander Van Doorn but with Pierre's own flare that has made him such a hit with his fans. Dropping in the middle from its deep almost tribal beats H3X reveal shades of uplifting moments before building and building and dropping back into the darkness.
Steve Birch completes the package with a more electro, pumping driving groove that lifts the package with a more euphoric feel. Supporters of Steve's productions include: Above & Beyond, Paul Van Dyk, Ferry Corsten, Armin Van Buren, Tiesto, Solar Stone, John O Callahan, John 00 Fleming Anne Savage, Christopher Lawrence, MIKE (PUSH) + more
Download now on:
Beatport
iTunes
Trackitdown
Audiojelly
Juno Download
Amazon
DJ Tunes
Dance Music Hub
Tidy Digital
DJ Download
'H3X' was first showcased on 'Nukleuz Trance Sessions Vol 5' courtesy of the Steve Birch remix and our first glimpse of the Pierre's Original Mix was on the compilation album 'Ibiza Trance Sessions 2010'.
"Trance: The Best Of Pierre Pienaar", an album mixing 24 of Pierre's finest works to date across 2 DJ mixes is also out now on Nukleuz.
Mixes:
Original Mix
Steve Birch Remix
For more information on Pierre Pienaar visit:
http://www.pierre-pienaar.com/
http://www.myspace.com/pierrepienaar
http://nukleuz.com/artistinfo/pierre-pienaar-biography/
For more info on Steve Birch check out:
http://www.myspace.com/djstevebirch
http://www.djstevenbirch.com/
Related Posts