Nukleuz: A Decade of Dance Mayhem – Year 2009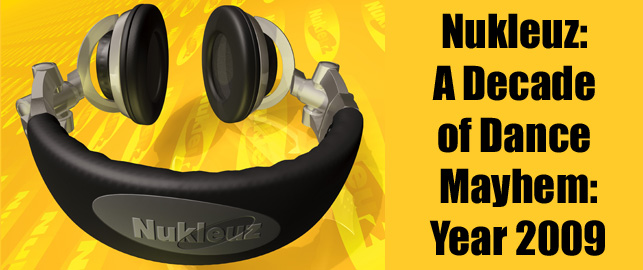 Nukleuz: A Decade of Dance Mayhem – Year 2009
Kicking off the year Nukleuz unleashed what they considered to be the strongest Hardcore album they had ever put together, Hardcore Nation 2009 with the backing of EMI / Virgin and access to their huge back catalogue of dance classics for exclusive remixes! However, with a declining scene, saturation of hardcore albums and distribution issues we took the decision to end the run of hugely successful top line hardcore albums for the time being.
During the summer we embarked on our most ambitious digital album project to date and made hard dance history by collaborating with Tidy, Riot, Traffic and Frantic on a level never seen before on the Hard Dance Mash Up album project. Mixed and compiled by BK, Andy Whitby and Sam & Deano (aka Tidy DJs) the album took 71 of the biggest anthems and classics in the scene from the catalogues of all involved and bootleged them live over 3 DJ mixes.
Organ Donors being equally ambitious presented us with an album on a monumental scale called "Under The Knife". Calling in all of their favourite DJs and producers to remix their biggest ever anthems all taken from their debut album "Plastic Surgeons".
Albums
Hardcore Nation 2009 – Mixed by DJ Seduction, Stu Allan Bootleg Mix [2009]
Ibiza Trance Anthems 2009 – Mixed by Nukleuz & Maelstrom DJs [2009]
Ibiza Trance Anthems – Winter Session 2009 [2009]
Miami Trance Anthems 2009 – Mixed by Nukleuz DJs [2009]
Hard Dance Mash Up – Mixed by BK, Andy Whitby and Sam & Deano (Tidy DJs) [2009]
Organ Donors – Under The Knife [2009]
Heroes & Villains [2009]
BK Nukleuz Mix [2009]
Hardcore Anthems [2009]
Hard Dance Anthems [2009]
Trance Anthems [2009]
Tech Trance Anthems [2009]
Bounce & Donk Anthems [2009]
90s Euro Dance Mix [2009]
Forthcoming:
Trance Adrenaline 2 – Mixed by Pierre Pienaar [2010]
Hardcore Mash Up [2010]
Check out the CDs we have in stock
Singles:
Joy Kitikonti – Joyenergizer (DJ Choose Remix)
BK – Revolution 2009
Pierre Pienaar ft Marcie – If You're Not Here
Organ Donors – Under The Knife EPs
Hardcore EP 19
Melodia – Phoenix
P.H.A.T.T. – Amsterdam
DJ Choose – Stranger Danger
P.H.A.T.T. – The Way It Was
Melodia – Over You
S.H.O.K.K. – Menage A 3
Simon Pitt – Purpose
DJ Choose – Saw Sessions Vol 1
Pierre Pienaar – Nothing Else
Check out the 12″ Vinyl we have in stock
Events
Check out more classic Nukleuz & Frantic event fliers on Frantic's Facebook Page
Related Posts